A floral design inspired by the wedding location in Sussex, UK. We reimagined the surrounding countryside and turned it upside down - literally! - with a show-stopping floral ceiling of hanging white roses and British foliage.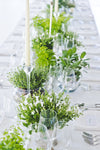 Kent

Wedding
An elegant September wedding based in Kent, UK with a one-of-a-kind floral installation.
View wedding

West Sussex

Wedding
A garden-inspired wedding in West Sussex, UK which celebrated the beautiful surrounding countryside.
View wedding

Bedfordshire

Wedding
A picture-perfect summer wedding in Bedfordshire, UK with an enchanting marquee bursting with British flowers.
View wedding